Message from the President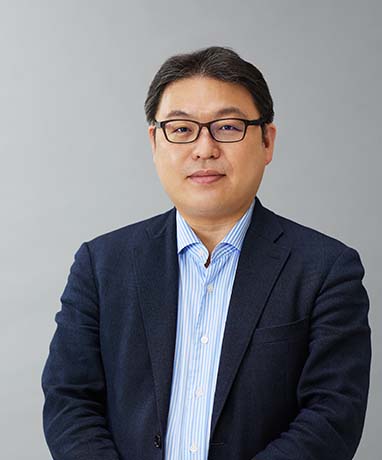 Daishin Corporation
Masa Oguchi, President
At Daishin Corporation, we strive to ensure (1) the constant satisfaction of our clients, (2) the continued welfare of our employees and (3) that we are positively contributing to positive social progress.
Thank you for visiting the Daishin Corporation website. We are a trading company specializing in the export of Japanese chemical products, from specialty chemicals to minor metals, to countries all over the world. In addition to this, we also engage in imports and triangular trading.
We believe that foreign trade is of increasing importance for Japan, a country facing a diminishing workforce. In this constantly changing world, we need to link the underlying strengths of Japan to specific opportunities within the chemical industry. By leveraging our strengths in negotiating with different cultures, staying adaptable, providing on-time solutions, maintaining financial competency, and minimizing risk, we make every effort to provide the best services to our clients.
By providing high-quality specialty chemicals and services every day without compromising our core values, we aim to achieve continuous growth of our chemical business while maintaining the satisfaction of our clients and the welfare of our employees, as well as contributing to better social progress.
We thank you in advance for your interest and support.
New Year Greeting
2020 has just begun. I look forward to working with you this coming year.
As it's the beginning of the year, I'd like to talk about my view of life and what it means to work for this company.
First, let me talk about the thing we don't want to think about. In 100 years, everyone here will be dead. That doesn't bode well for the rest of the year, but it's a fact of life. So, why work? What's the point if we're just going to die anyway?
More +
Some people have never thought about the meaning of living. Some will work to get the food they need to survive; in fact, this is how most of our ancestors lived. I believe that being born into this world has given me a huge opportunity and, if I have the chance, I want to live a fun and meaningful life. I want to spend as meaningful a time as possible with like-minded comrades.
We have an unwavering mission to reduce the distance between Japan and the world. At the same time, there is the vital goal of becoming a successful model of a new type of organization, the NPBO, a model which does not fit into existing commercial or non-profit structures. If we can bring this model to the rest of the world, we can leave our mark on human history. In an alternate dimension is the kind of world our organization aims for, a world without vested interests. A simple analogy from recent times is the emergence of YouTube, as a replacement for television.
In our business world, we will accelerate innovation by destroying myopic vested interests and democratizing information. If I compare life to a game with a time limit, I am happy with setting this end goal. Therefore, it is a worthwhile use of my precious time and I want to enjoy every step of the way to achieving this target.
It is only 6 years and 7 months until the stock listing deadline. As I've said before, if we can't reach our goal by this deadline, it's game over. Listing isn't easy, but games that are too easy are not fun. I intend to enjoy the game again this year whilst keeping the time restriction in mind, as limitations makes the game tenser and, therefore, more interesting.
No matter how you live your life, you are free. You can have fun with us herein this organization, or you may want to find something else to live for. However, I hope everyone here won't waste their valuable time and have a meaningful life. Isn't that the best way to live? I will enjoy the time it takes to reach my goal. People have different values, but let's live without regret until the day we die. At the start of a new year, it might be nice to take the opportunity to think a little about the meaning of your life.
This is the new year's greeting for 2020. Let's look forward to the year ahead.
Business Philosophy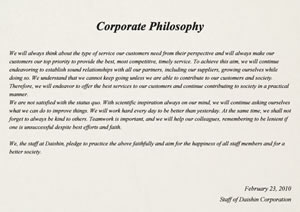 Our vision is to offer clients the highest quality chemical products in the world while continuing our efforts to be at the forefront of the international chemical industry.
We believe in universally high ethical standards that enable us to thrive in changing times and we will continue to operate a well-regulated, lean and solid management system while ensuring compliance with laws and regulations.
Our goal is to provide our clients with the best, most competitive, high-quality chemicals and services.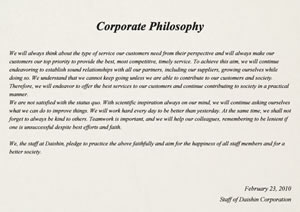 Company Profile
Company Name

Daishin Corporation

Date of Establishment

June 15, 2004

Capital

JPY 100 milliion

Annual Sales

JPY 1.5 billion yen (Financial Year ending March 2019)

Representative

Masa Oguchi, President

Primary Business

Export of Chemicals and minor metals, and other related businesses

Address

Shimura Building 8F, 5-6-7, Toyosaki, Kita-ku, Osaka, Japan

TEL

81-6-6371-3730

FAX

81-6-6371-3731

URL

Main Banks

Amagasaki Shinkin Bank, Bank of Tokyo-Mitsubishi UFJ, Kansai Urban Banking, Senshu Ikeda Bank, and Sumitomo Mitsui Banking Corporation (in alphabetical order)

Registrations and Licenses

Authorized Importer of Poisonous and Deleterious Substances,Authorized Distributor of Poisonous and Deleterious Substances,Special General Bulk Export License
Company History
March 2019

Wholly owned subsidiary, BuyChemJapan Corporation, established.

January 2015

Special General Bulk Export License obtained from the Japanese government.

December 2014

October 2014

Business capital reached JPY 100 million.

July 2011

Business capital reached JPY 50 million.

February 2010

Corporate Philosophy published in writing.

May 2008

General Bulk Export Licence obtained from the Japanese government.

December 2004

Certificate of Acceptance of Business Registration as an importer of designated chemical substances obtained from the Japanese government.

December 2004

Certificate of Acceptance of Business Registration as an exporter of designated chemical substances obtained from the Japanese government.

October 2004

Registered as an authorized importer of poisonous and deleterious substances.

September 2004

Registered as an authorized distributor of poisonous and deleterious substances.

June 2004

Established in Amagasaki City, Hyogo, Japan, with the aim of dealing in imports, exports and domestic sales of industrial chemicals.